Nexthomegeneration.com – A Scandinavian characteristic design uses neutral colors in furniture, flooring, wall, and decorations selection. However, it has some of the difficulties which are important to solve them. To take care of the Scandinavian room is a little bit complicated because we will use many bright colors like white and beige. It is easy to get dirty. If we let it for a long time, we will feel complicated to clean our room. However, we can still make the Scandinavian bathroom look beautiful because there are some tips from us to clean it. For some people, white is their favorite color and they might want to decorate their rooms by using it. Don't worry about it because we can decorate all of our rooms with white furniture, wall, flooring, or even decorations where it can represent a Scandinavian concept to our bathroom as the white color would be implemented there.
Cleaning a bathroom might be a disgusting thing for some people and it makes us don't want to do it. However, it is important to create a comfortable bathroom. There are some tips which might help us feel easy to clean. Besides, making it always feel cozy with a clean impression, we should add something to create a bright accent. The best lamp should be chosen to create a beautiful bathroom. Lighting gives many effects in our room and that's why we should consider choosing a fascinating design and shape.
Beautifying our bathroom won't be enough if we don't clean it properly. The dirty impression can ruin our interior design. For some people, it would be complicated to make the dirt until it's gone. However, it should be easy if we know some tips and ingredients to make it always clean and bright. There are some natural ingredients that we can use for cleaning it and make us feel easier than only use liquid soap. However, how to do it and what natural ingredients can be used to make a beautiful bathroom? Let's get to our list today!
Cleaning Bathroom Ceramics With White Vinegar
Generally, white vinegar is one of the cooking ingredients that is always used before making something delicious but it can be made into a liquid to clean a bathroom. Don't you believe it? We will give you information about how to use it.
Storing vinegar to spray bottle to make it easy to use while cleaning the bathroom.
Spraying the white vinegar to all of each bathroom tiles that want to be cleaned.
Waiting for it in 10 minutes and after it, rinse it with hot water.
Let it for 2 minutes and rinse it again by using hot water.
After it, wipe bathroom tiles with a wet sponge and dry them with towels to make them clean.
Applying car wax to make the tile looks shiny and beautiful.
Citric Acid, Baking Ingredients That Can Be A Bathroom Ceramic Cleaner
Citric acid is always used for the baking process and we never think it can clean our bathroom tiles. However, it can be used as cleaning ingredients and make them always shiny and the dirt will be gone. This time, we will give you some information to use citric acid to clean our Scandinavian bathroom!
Rubbing the bathroom with a brush and liquid soap.
Rinse it until the foam is gone.
Spread citric acid powder to the bathroom tiles while it is still wet.
Let it in one hour and rub it with a brush then rinse it with water.
We should do it until 3 or 4 times to make it cleaner than clean it only one time.
Making A Liquid Soap By Ourselves
For people who are on a budget but want to clean their bathroom perfectly, we recommend making liquid soap by ourselves. If we can make it, we don't need to buy it outside and save our expenses. However, how to make it?
Add liquid dish soap to the bottle and mix it with water.
Spray it to dirty bathroom tiles.
Rub it by using a brush while occasionally dishwashing liquid soap.
Rinse it with water.
If you clean the bathroom by using it, moss, oil, and other dirt can be gone.
Using Bathroom Cleaning Products
For those of you who don't want to make liquid soap, we can use bathroom cleaning products that are usually sold in the store. If we don't know how to use it, we will give you some information about it.
Pour the bathroom cleaning product into a bowl or anything that we can use as a place.
Spread it with a brush to each bathroom floor.
Let it until 10-15 minutes and rub it with a brush.
Rinse the bathroom floor with water.
Installing a big window can certainly help to increase the natural lighting of Scandinavian design but we still need a lamp to create a bright impression. We should choose a simple design and shape with natural lighting that doesn't feel either brighter or darker. Some people might confuse to choose a suitable type for it. Don't worry because we will give you Scandinavian lighting recommendations.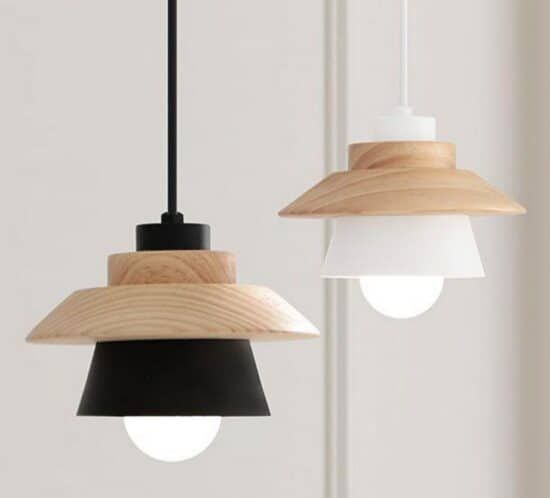 Nordic lighting has a simple design with wooden materials that makes it is very suitable for a Scandinavian style. It makes our bathroom doesn't feel dark and won't look too bright because it has natural lighting. If we use the nordic lamp, it won't look tacky and have a stronger Scandinavian accent. Although the lamp style looks like a Scandinavian living room, it is also preferred to be added in the bathroom.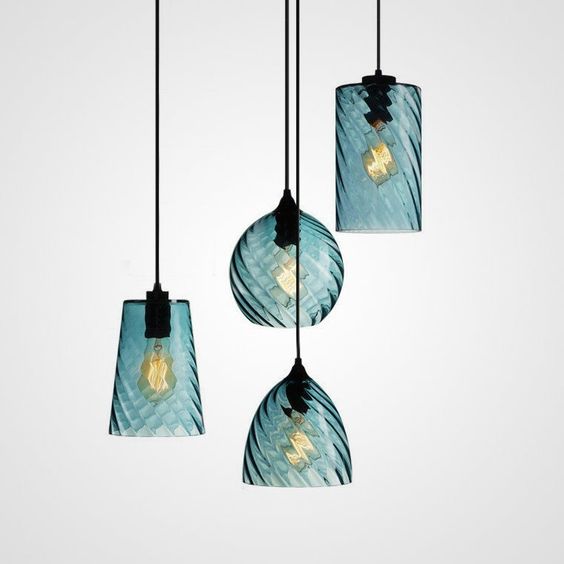 Do you want to have a unique lamp with a beautiful reflection for your bathroom? We recommend choosing blue glass lamps because it has a unique design and shape with glass materials that it creates fascinating lighting. We can install it to make our bathroom bright or it also can be used in the Scandinavian bedroom to make a cozy impression.
Beautiful Aesthetic Dark Grey Wall Lamp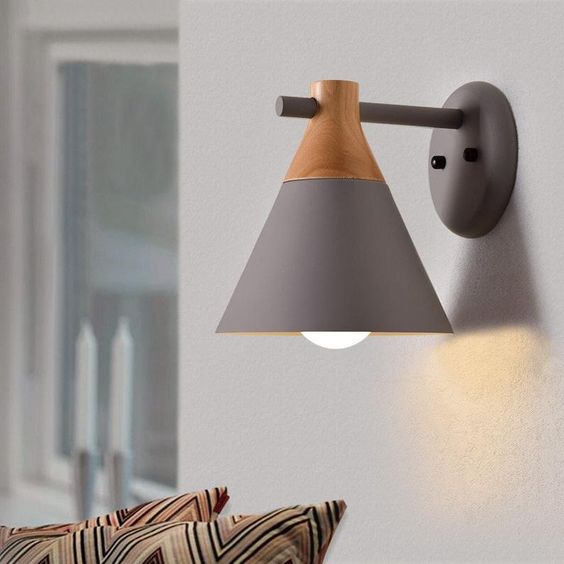 Actually, a wall lamp is used in the living room, bedroom, and terrace but we can install it in a bathroom to make it bright or only for wall decorations. It is beautiful for Scandinavian bathroom lighting because it has a simple design and warm lighting. It can be combined with white or beige furniture. We can also install it in the Scandinavian kitchen style.
Round Wooden Ceiling Light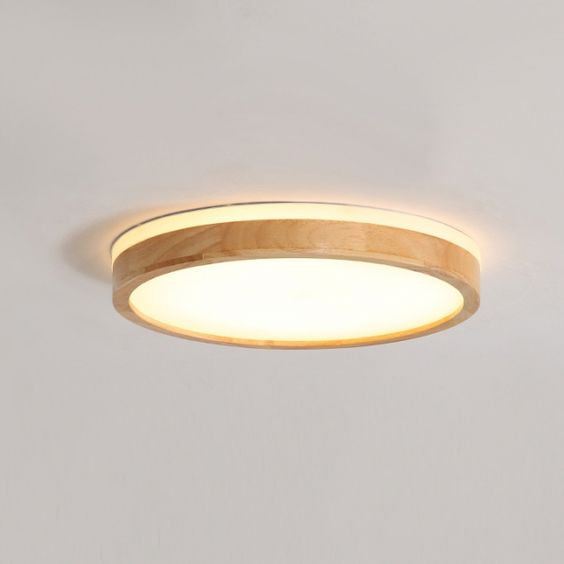 Besides it can be installed in the bathroom, it is also preferred to make our versatile Scandinavian dining room feel bright. We can install it in the bathroom if we don't want to have a lamp type that has a design and shape which looks prominent. A round wooden ceiling light is the best recommendation for us to create a simple and natural impression at the same time. It also has natural lighting and it is enough to make us comfortable while using the Scandinavian bathroom.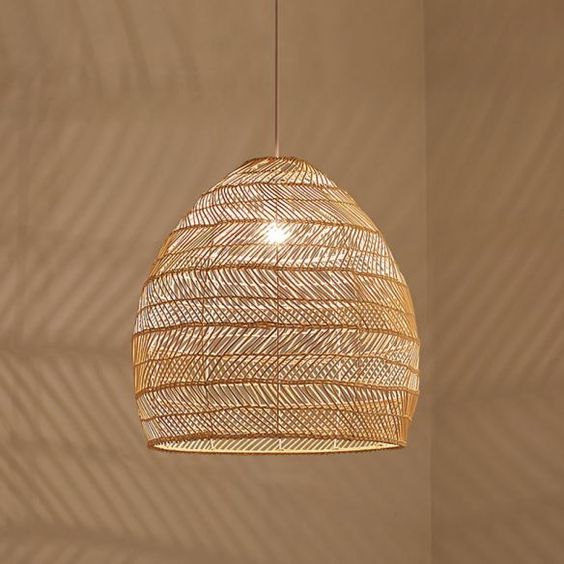 Rattan materials are always chosen for people who love natural impressions and want to have a unique lamp in their rooms. It is suitable to be added in any room even in the bathroom. Generally, it has warm yellow light that makes us feel comfortable while soaking our bodies in a bathtub with warm water. Scandinavian bathroom lighting should have neutral colors and a rattan pendant lamp is the best recommendation.
Conclusion
Scandinavian interior design is suitable to be applied in the bathroom because it has an attractive look and makes it cozier than choosing another style. We should keep it always clean and choose the best bathroom lighting to make a perfect design. Hopefully, by using our recommendations and tips, we might help you to create a beautiful Scandinavian bathroom.