Nexthomegeneration.com – Modern coastal nautical dining room is very preferred for you who love beach and sea. This design can be applied in the dining room and it can make it look fascinating. Modern coastal is very unique because the decorations are related to the ocean like ships, anchors, starfish, and any decorations. It also tends to have a dark and light blue color in furniture selection. If you like this color, you will like modern coastal nautical interior design. But how to apply this design and how to choose decorations that are suitable for it? Today, we will give you modern coastal nautical dining room ideas with tips to clean the dining room that probably might help you.
Modern Coastal Nautical Dining Room Ideas
A dining room is a necessary room because it is always used for important schedule or only spend time by ourself. Sometimes many people don't pay attention to their dining room and don't make it look pretty. Actually, it is necessary for making us comfortable during eating or holding events. Now, without any further ado let's get to the list!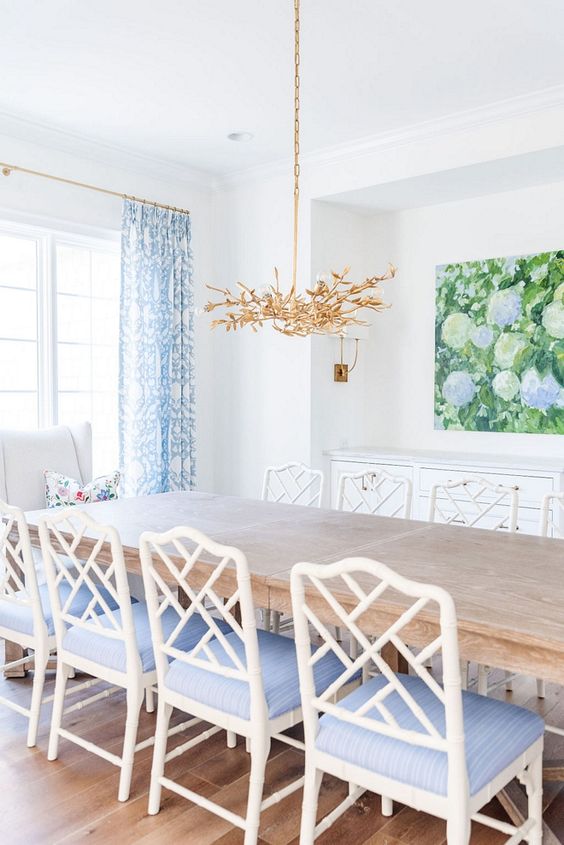 White and light blue colors are suitable to apply modern coastal design to our dining room. This room will remember us of a restaurant on the coast that famous to unique characteristics. To make it look prettier we can install a gold chandelier with flower painting on the wall. Don't forget to add a blue curtain for covering our window and also make our dining room look more fascinating. Wooden vinyl tiles can be applied on the floor to make our dining room have a natural concept and look impressive.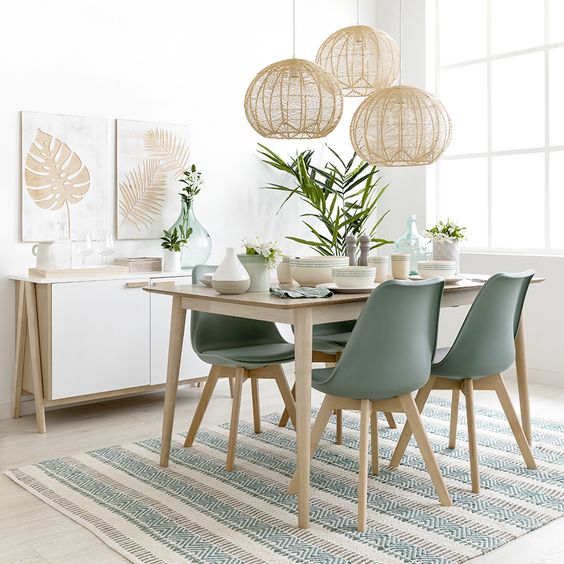 Besides it tends to have blue color in furniture selection, modern coastal nautical interior design also always uses rattan materials in the furniture. In this concept, we recommend you install a rattan chandelier for making it brighter and also look prettier. A rattan chandelier gives us a unique shadow when turned on. We can use a rug that has a unique pattern in light blue and light brown color as pedestals. An Eames chair suits our design because it can make our dining room prettier and also make us comfortable. Wooden furniture design is very suitable for making this concept and we should use it in our dining room.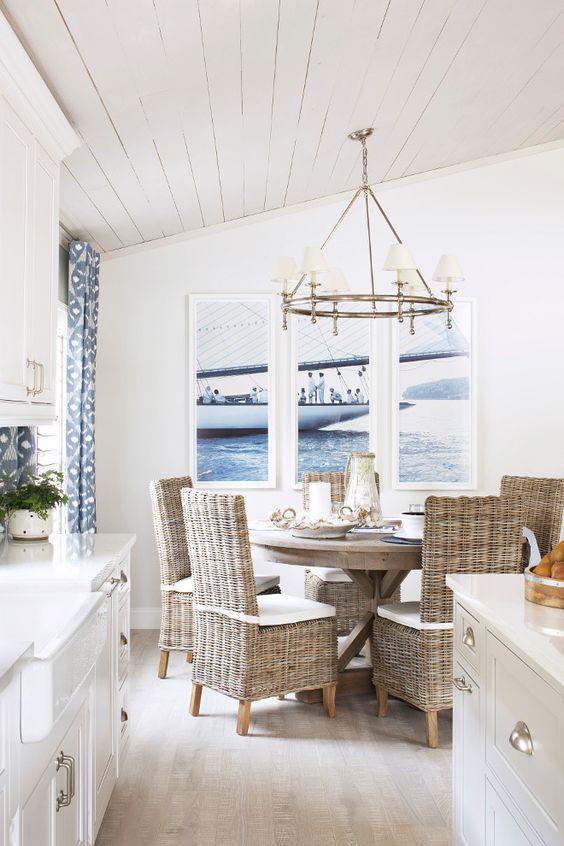 If we don't want to install a rattan chandelier we can add a rattan chair to make this concept look natural. It can also make our dining room have a stronger design than doesn't use rattan materials at all. We can use beautiful chair set designs to make it pretty. A fisherman painting can be added as decoration to make it have an enchanting concept and stronger nautical design.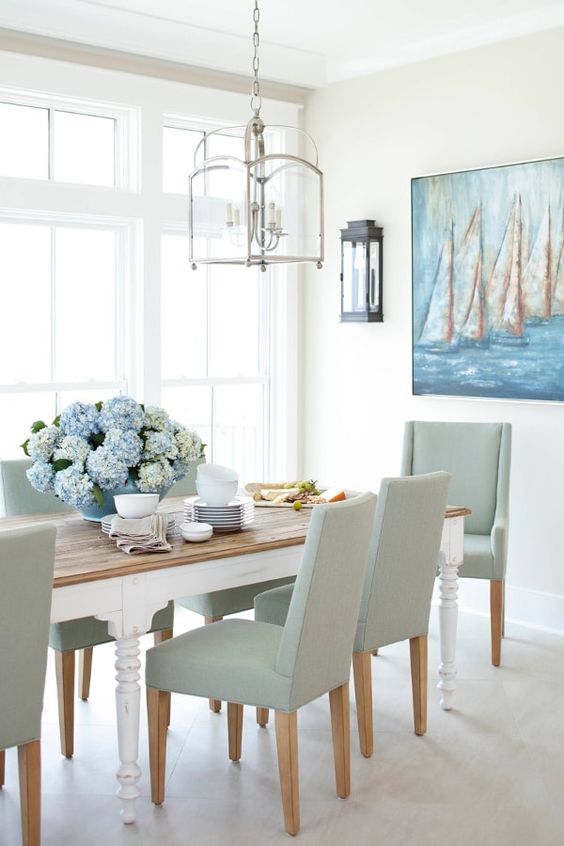 A beige color tile has a simple design but looks aesthetic at the same time. We can add an artificial flower that has a blue color on the table as decorations. A ship painting can be added to the wall to make the design feel stronger. We should install a chandelier for making our dining room feel brighter and look aesthetic. A wooden table and chair are very preferred to apply this design. It is more impressive if we know more about modern nautical coastal interior design while applying the design.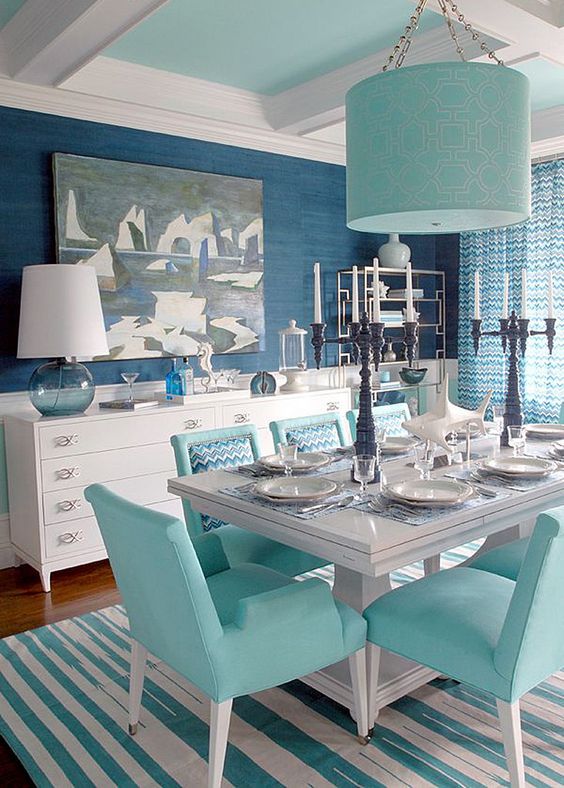 For those of you who love blue than any color, this concept is very suitable for you because it uses blue furniture. We should choose a blue chair with a striped white and blue carpet to make it have a stronger concept. A unique painting can be added to the wall as a decoration and to make it doesn't look monotonous. We can also install a blue chandelier in our dining room for making it look fabulous. If we want to make it look luxurious, a black candle place can be added to the table.
Tips For Cleaning The Dining Room
Do you ever feel is complicated to clean your dining room? If you ever feel, some tips from us might help you to clean it. Actually, it is not necessary to clean the dining room because we only know how to clean it correctly. Hopefully, by using our ideas we might help you to clean it.
Don't add a trash can in the dining room because it can make it have a bad smell that will disturb us while eating. It can also make anyone that came into your house, doesn't want to stay for a long time in your dining room. The trash can make our dining room doesn't hygienic because that will make flies come to our home.
After using a dining room, we have to clean it directly to make dirt doesn't stick to the table. It is useful to avoid us complicated to clean it up later and it can also make our furniture durable.
Don't forget to clean our dining room floor to make bad smells gone. It can also make our dining room more look gorgeous because the floor always clean. If our dining room always clean, it makes us feel comfortable to stay in the dining room.
We have to make sure our dining room has enough ventilation because otherwise, it can make it feel humid. If it feels humid, it can make our furniture damage and moldy.
Clean it from dust regularly to make our furniture have long durability and still look prettier even we use for a long time. If we use wooden furniture, we can clean it using wet fabric and lemon or oil to make it shine like new.
If we feel complicated to clean dirt that stacks on the table, we can use mayonnaise to clean it. We should pour a mayonnaise into the dirt and wipe it with wet fabric or anything that we can use for cleaning it.
Conclusion
Modern coastal nautical interior design has a unique characteristic that makes us always remember the ocean or beach. It can also make us feel eat in a restaurant on the beach that won't feel if we apply another interior design. Probably, we might help you to apply the design in your dining room.