When choosing countertop material for a kitchen remodel, you have to find a balance between aesthetics and needs. How much life happens in the kitchen? How often do you cook? Do you have young children?
Let's be honest, remodeling a kitchen is already quite a project and investment. In the end, the countertops should be low maintenance, durable, and look gorgeous.
Lucky us, there are many materials out there that accommodate cooking and dining habits (and mishaps), look amazing, and last a near lifetime. Here are just a few:
Budget-Friendly Laminate
Laminate has come a long way since the early days of Formica® decorative sheets in the 1930s. Brands have developed a wide range of designs and countless colors to expand on a product that is durable and stain proof. Technology advances make laminate less prone to scratch or chip. While not the most durable countertop material, laminate will still last many years; and since it's one of the most affordable kitchen material, replacing the surface down the road is not as painful for your budget.
Hard-As-Rock Engineered Quartz
Quartz countertops from popular brands like Silestone and Caesarstone have many positives for avid cooks and busy families: they don't scratch, resist heat, don't stain, and don't require to be sealed regularly.
Eco-friendly Recycled Glass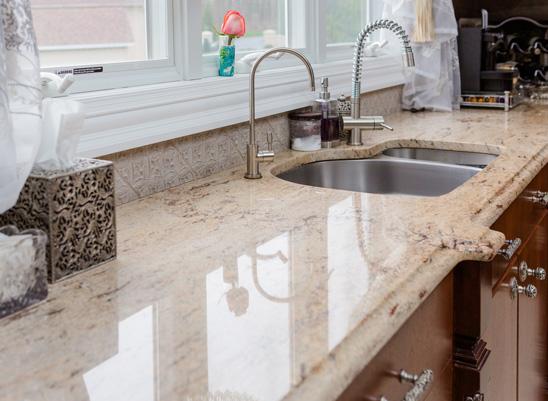 Crushed glass bonded with clear resin results in a sleek looking material that is nonporous (hence doesn't stain), heat-resistant and super easy to clean.
Stainless Steel Alternative
Everyone goes "wow" for stainless steel, but that material is not easy: it will scratch, show water marks at the slightest drop, and reflect smudges rather than shine. If you must go with a metallic look, consider zinc countertops. Zinc is nonporous and naturally resistant to bacteria. Over time, it develops a lovely dark patina reminiscent of old Parisian brasseries. It is not, however, scratch resistant and it reacts negatively to high heat.
Most Maintenance-free Lava Stone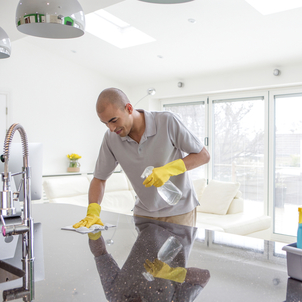 If cost is not an obstacle, the indestructible volcano rock countertop is a great choice: it resists pretty much everything, from heat to chemicals, form UV light to heat and cold.
Solid Resin Contender
Synthetic solid countertops have taken kitchen by storm. Corian® type surfaces are hygienic, easy to clean, easy to repair in case of dent or scratch, and fairly durable.
Not-just-for-pandas Bamboo
EcoTop® innovates in the world of low maintenance countertops. Bamboo and recycled paper form this composite that is stronger than granite, nonporous, resistant to high heat, doesn't scratch,… In essence, this is one of the most user-friendly kitchen materials on the market.
The choice is yours, depending on your needs, style, and budget. Kitchen remodeling is the opportunity to correct flaws you've noticed in your current design. Take note of what works and doesn't work, list the potentially damaging things that happen in a kitchen (spills, hot pans, chopping without a cutting board, exposure to sunlight, etc.) and weigh what you will and will not endure! When you get closer to selecting your countertops, talk to the pros.