Living in small apartments can be a challenge. But it is important to celebrate the many advantages that come dwelling in small apartments. When you don't have a large amount of space to manage, you can focus on what is available and make your environment just right. Decorating your small apartment is simple and affordable. It is easy to clean and organize. Small spaces encourage residents to spend more quality time together. Minimalism is the key to a blissful life. And it is almost a necessity for those living in small apartments.
Do you want your space to be a reflection of you and your personal style? Interior design is all about defining the life and lifestyle of the residing family. Keep your rooms fresh and uncluttered with well-chosen storage. We've gathered the best space saving ideas for small apartments to help you make the most of your space. You will certainly fall in love with your little space after reading this blog.
Living Room Space Saving Ideas
A living room is the centre of attraction in your home. It is the place where you greet and meet your guests and loved ones. Creating a serene atmosphere in your small space living room is possible with apartments interior designers.
Do you often say, I have too much stuff? Is it hard to let go a few things because you may think about what if you need that someday? The best solution is to keep what is more important. If you want to hold a lot of things on a wall, then floating shelves are perfect. You can make your small living room feel larger by keeping it tidy.
Do you feel your living room is cramped and narrow? Selecting furnishings that fit the space is one of the ways to maximize the potential of a small living room. Get creative and find ways to arrange your multi-purpose furniture to make use of every space in your living room, including those awkward corners. You may want to add décor such as art and mirrors without taking up space. Make use of every inch of spare space. All you aim is decluttered living room, then divide your living room into zones. Use the walls for mounting shelves. Mount your TV in the living room and use solid furniture with storage underneath. Do not cram your small living room with too much furniture. Use stools if you need more seating.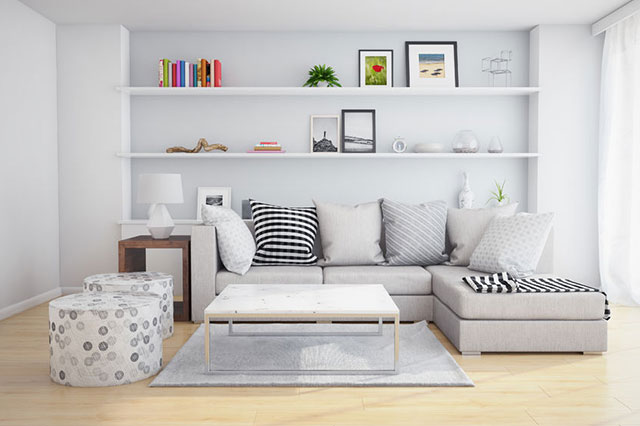 Bedroom Space Saving Ideas
The bedroom is the perfect place to sleep and relax. So, it needs to be comfortable and friendly. Create a strong sense of personal style and easy living. Storage doesn't have to be dull. Get strategic about storage space. Beautiful storage options are the smart solution to keep your things uncluttered and organized. You can opt for wall storage or use your bed frame which has space beneath it to keep your clothes' storage boxes and crates. You can put everything under your bed. You can opt for a bed with built-in drawers and frame, which allows for extra storage space. You have a place to display your décor and art.
In a small bedroom, wall space is valuable and should be utilized to the maximum.  Mounting shelves to the wall above your bed creates space to keep your essential items. Add a vertical space for displaying artwork and storing other essentials.
Next comes your closet. You need to find out what takes up the most room. Are you going to hang things up or use more shelving for folded items? You can create a customized accessory storage area by using the back of the closet door. Little tactical styling and creative organization will make your small bedroom splendid!
Kitchen Space Saving Ideas
The high-traffic area in your apartment is the kitchen. It is the heart of your home. The right layout and pre-planning can make a huge difference to your kitchen. Transforming your small kitchen into an efficient cooking haven requires wise planning and organization. However, it is possible to have a functional and stylish kitchen with good residential interior designers. The counters and cabinets are a great idea for small kitchens as they tend to maximize the space, making it look less cramped.
You can have open shelves above the counter to stack dishes, spices and cutlery. Make use of the spaces on top of your cabinetry to store spare kitchen roll, cookbooks and other items.  A rail can be easily mounted on the kitchen wall to hang absolutely anything to create an aesthetic look. You can hang plants, pots, pans or tea towels. Hanging up as many things as possible can save on storage space. Wall shelving is another space-saving solution to make the most of kitchen wall space.
If you are an avid gardener, grow a herb garden with the help of a ceiling-mounted rack, which can be used for hanging pots. White walls and pale cabinets can create the illusion of more space.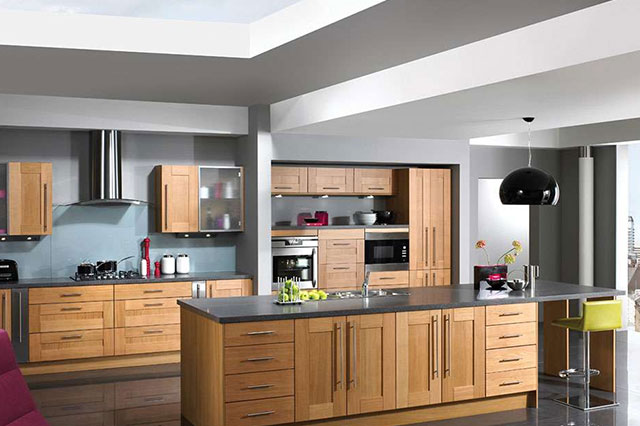 Space saving ideas for Bathrooms
Deck your bathroom with space-saving shelves, wall organizers and cabinets. You can have metallic hooks on the wall to hang towels, robes and other things. Vertical tiered storage shelves create more space in the bathroom. Make use of the wasted space above the bathroom door to store extra towels or spare toiletries. Mesh shower organizer is another great way to organize your shower gel, shampoo and other bathing necessities. The unused back of the door can be utilized to mount towel bars. You can add floating shelves to add more storage to a section of open wall space.
These ideas are inspiring where you can make the most of your space. The interior designers can create an aesthetic look to your small apartment. The Studio by Nandita Manwani, one of the top interior designers in Bangalore have experience in creating world-class interior designs and homes that are superior in quality. These designs are matched to the unique Indian needs and taste. They offer a comprehensive theme-based solution at affordable prices.