Composite doors; they've been popular for many years among homeowners across the UK, yet many of us still have many questions to ask about them!
One thing that can make the whole process so confusing is simply the sheer amount of colours, finishes and designs to choose from. It's not the easiest decision to make, especially when you are also thinking about manufacturer, specifications and value for money.
That is why we have put together our guide to what you need to look for when purchasing a composite door, written in collaboration with Chase Garage Doors, leading providers of Rockdoor composite doors Cannock.
How is the Door and Frame Constructed?
What materials both your door and its frame are made from is one of the most important things to look out for when purchasing a new composite door.
For example, a rockdoor composite door is made from an aluminium reinforced inner frame and a high security multi-point locking system, which leads to a much stronger front door solution.
When a composite door leaves the factory, it will do so as what is referred to as a 'door set'. This comprises a door unit and a frame, which therefore guarantees that the door and frame will fit snugly together when installed.
The Design
As mentioned above, there is a wide range of composite door designs, covering both contemporary and traditional styles. This means that you should be able to find a door that suits your tastes and the overall character of your home perfectly.
Your next decision will be colour, some companies, including Rockdoor, offer up to 20 standard colours, giving you a wide range of choice.
Thinking carefully above the design and colour of your composite door will allow you to achieve the perfect look you're hoping to achieve.
The Glazing
The next thing to think about when you're choosing your composite door is the glazing. Many suppliers will offer you a choice of glazing designs, whilst alternatively, you could just choose standard obscure glass.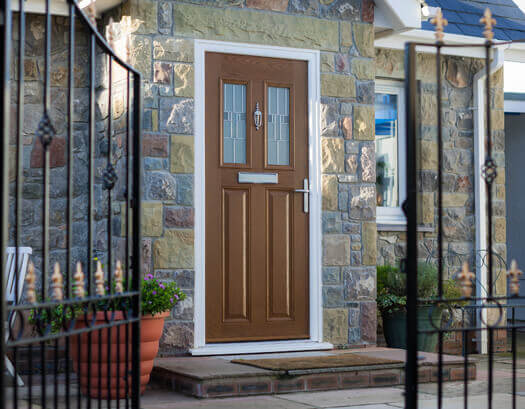 How Secure is Your Composite Door?
Possibly the most important thing to look out for in a composite door is how solid and secure it is. No matter whether you're looking to have a handle operated door, or an auto-locking system, it's important to have the peace of mind that your new door meets top security standards.
There are various security accreditations that you can look out for in your composite door, including the 'Secured by Design' logo. This means that your new composite door has been tested and is recommended by the police to help prevent a potential burglary. You'll quickly find that many manufacturers, including Rockdoor, are covered by this accreditation and therefore made to strict specifications.
What Door Furniture Do You Want?
When purchasing a composite door, the last thing you want is for it to be let down by poor quality door furniture. This can include door handles which quickly tarnish and letter plates which fall off.
It's important, when making such an investment, that you feel as though even the smaller details of your door look great and are finished to a high-quality.
So that's it, a selection of some of our most important things of which you should look out for when buying a new composite door. We hope this article has helped you to feel more prepared towards choosing the perfect door for your home to suit your style and aesthetic perfectly.