1. Overview of granite floor
Granite flooring has an aesthetic, modern, and neat residence and is everyone's dream, and it is not surprising that many people are willing to spend their money to beautify their homes. One crucial aspect that can be seen is the floor of the house.
In this article, there are some materials that can be used for floors to look luxurious, namely granite floors which are currently popular. The granite floor is one of the floors with natural stone materials. For you to know, the advantages of this floor, sturdy, durable, and does not break easily. Therefore, much luxury housing or apartments use this type. For that, let's discuss how to choose the best floor as below.
2. Choose the best floor model
Everyone knows the floor is one part that can make a home look luxurious. Therefore, many people choose to floor for its long-term use. For that, you should consider selecting an aesthetic and durable floor. As we know, there are many floor models you can use as ceramic, wood, and marble. However, granite flooring is one of the most chosen floors because it has good durability and has an interesting motif. For more details about the types of granite floors and their advantages, let's discuss them.
3. Granite floor model
Not only models and motifs can make your home look aesthetic. However, a good granite color is one of the things you should consider when choosing materials to make your home's interior look cool. Granite is one type of flooring material and many used by the public. Then, also widely applied to the kitchen and walls.
Then, its sturdy, durable, and not easily scratched nature makes this material the best choice. Then, the luxurious, elegant, and exclusive models will make your home more attractive and fun.
In addition, the price of granite varies depending on the brand and quality offered. So you can choose the model according to the contents of the bag. If you are interested in this material, you can select the best motif, model, surface, and color. Then according to your taste. For that, we provide some examples of granite floors as your dreams.
4. Some examples of granite floors in residential
There is a saying that if you don't know, you don't love. Therefore, we would like to introduce another type of floor that is popular among the public. Therefore we want to explain one of the best floors for your home, namely granite. The granite model is almost the same as marble, but the advantage of granite is that it appears more flash and beautiful. Therefore, if you are happy with the beauty, you can use granite as the floor of your house. In addition, granite floors also have advantages over other floor models. Let's briefly discuss the advantages of this type of granite below.
5. Advantages of granite flooring
Luxurious
Granite can give the impression of luxury, elegance, and modernity. On the other hand, it still displays a natural and natural impression at home. Then this floor is suitable to be applied to various concepts and decorations of homes and apartments.
Resistant to hot temperatures
In addition to the floor, many choose granite as a kitchen set or a table in the kitchen. This is because the granite material has a high resistance to heat. Imagine if the kitchen set has made of plastic, it might not withstand heat and even start a fire.
Durable and scratch-resistant
Although the price is quite expensive, Granite stone has the durable quality and can last a long time. So you don't need to replace granite. In addition, granite floors are scratch resistant or resistant to heavy loads and not easily broken.
Easy to clean
In addition, granite floors also have a relatively small water absorption capacity. So when it looks dull, you can simply polish it with a special powder that is available on the market, and the floor is guaranteed to be shiny like new again.
Therefore, we provide a model of the granite floor installed in the house. This granite floor has adapted to the area, model, and type of house. For large and luxurious homes, you can use large sizes. As for the minimalist house, you can adjust the size to the area of ​​the house. We hope that some of the examples below can be an inspiration for your home interior to look beautiful and charming. Therefore, let's look at the image below. Welcome to our review!
Zigzag granite floor model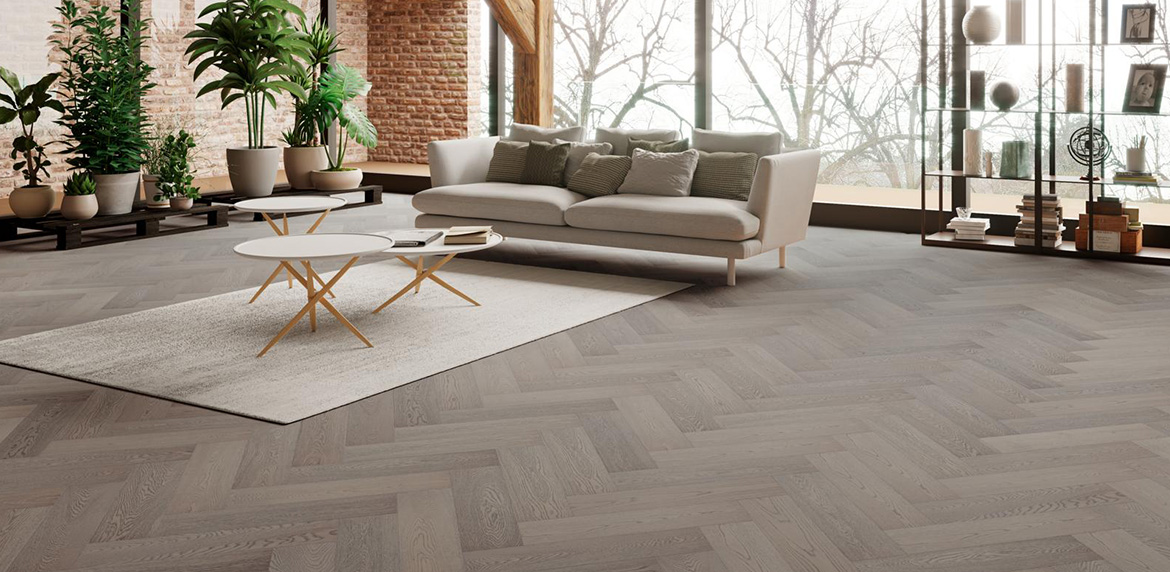 The zigzag granite floor pattern has an irregular pattern. However, using this floor model makes the house look aesthetic and charming. You can get this motif in shapes such as the letter W or Z. Then, using brown and gray colors makes the house look more simple and pleasing to the eye. Moreover, the color of your living room matches the color of this granite and can make your living room interior look very harmonious and comfortable. Then, to look more attractive, combine a tiled floor with a cream sofa set, ornamental plant pots, and a white table.
Black granite floor model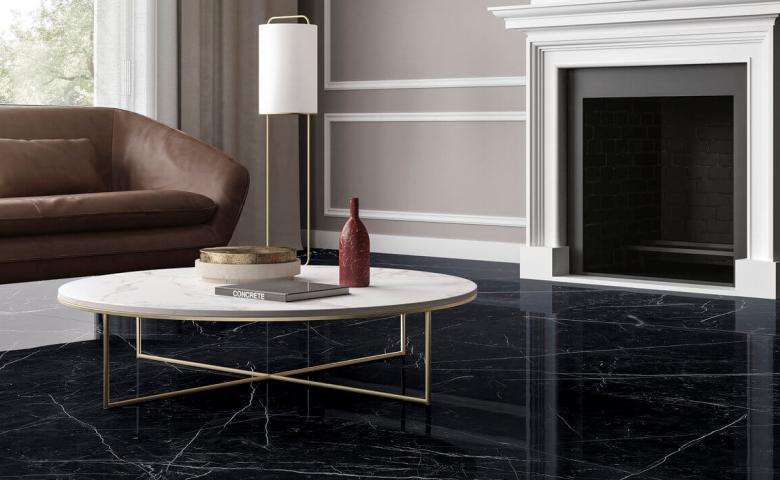 If you have a house color that is identical to a dark color. Maybe you can consider using this black granite floor model. To match the atmosphere of your home, this floor model also looks luxurious, elegant, and shiny because it has a glossy effect. Then, the black color on this granite floor also makes the house not easy to get dirty too.
Black is a good granite color because it makes the house look more elegant and assertive. Black granite is suitable for modern homes with a monochrome concept. In addition to plain, you can choose black granite black pearl (solid black), black galaxy (white spots all over), to Ubatuba granite (a mixture of black and gold). So, choose the colors and motifs that you think are most suitable for your dream home. In addition to the floor, you can also use black granite for granite kitchen countertops.
Modern granite floor model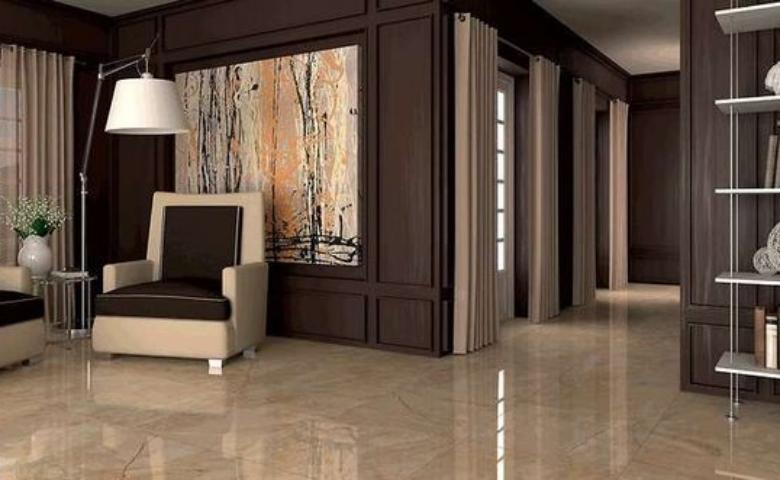 The combination of granite floors with light brown and dark brown colors makes the house look beautiful, stunning, and majestic and attracts the attention of guests. Not only that but there are also modern abstract motifs that make it even more perfect. The nuances of this granite floor have also been widely used by homes in urban areas. Then, to make it look more attractive, you can combine this granite floor with a matching color sofa, wall painting, and decorative lights with colors according to the floor. That way, the interior of your room will look beautiful and pleasant.
Vintage granite floor model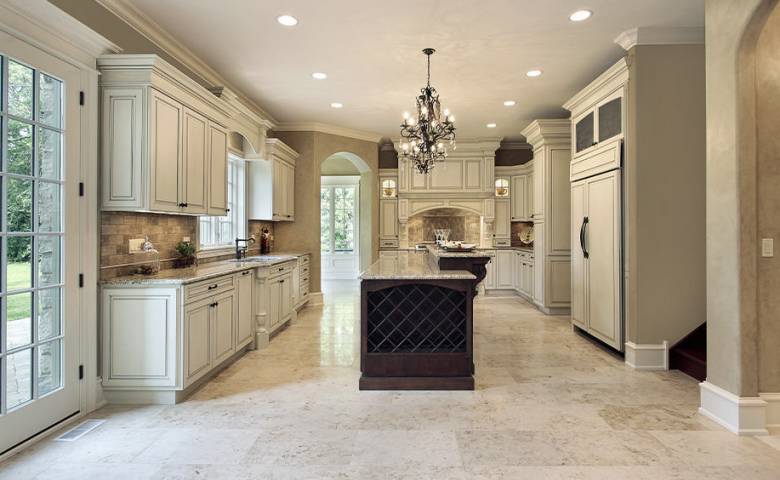 The next granite floor model that you can apply to your home is a granite floor with a vintage motif. This floor model has designed using a combination of beige and white colors. It is suitable for those of you who have a house with a bright atmosphere. With a design like this, the interior of your home will look more aesthetic and attractive.
Then, to look more luxurious, complete your kitchen set, decorative lights, and buffet with a color that matches your granite floor. With a design like this, your home interior will look more attractive and cool.
Wood motif granite floor model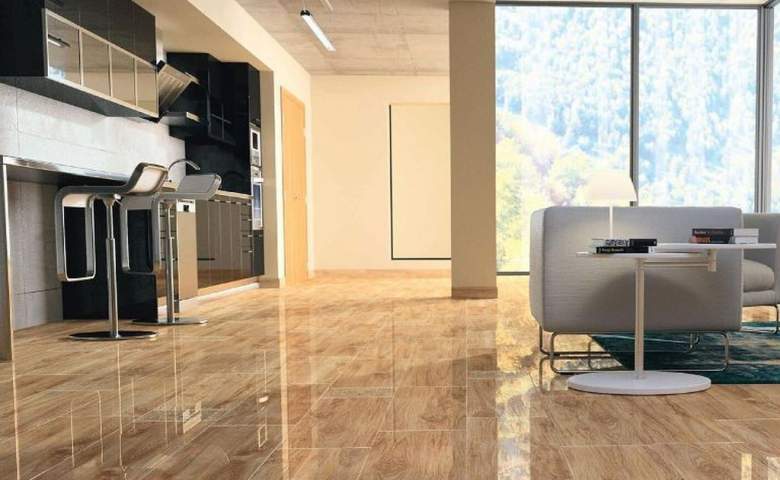 This granite floor motif is not foreign to some people. This one model is already popular among homeowners. By using wood patterns, this granite floor makes the house look luxurious, elegant, and modern. Not only that, but you can also see the shiny effect on this granite floor. Then, to look more beautiful, complete this room with luxurious furniture. That way, your room will make everyone fascinated to see it.
White granite floor model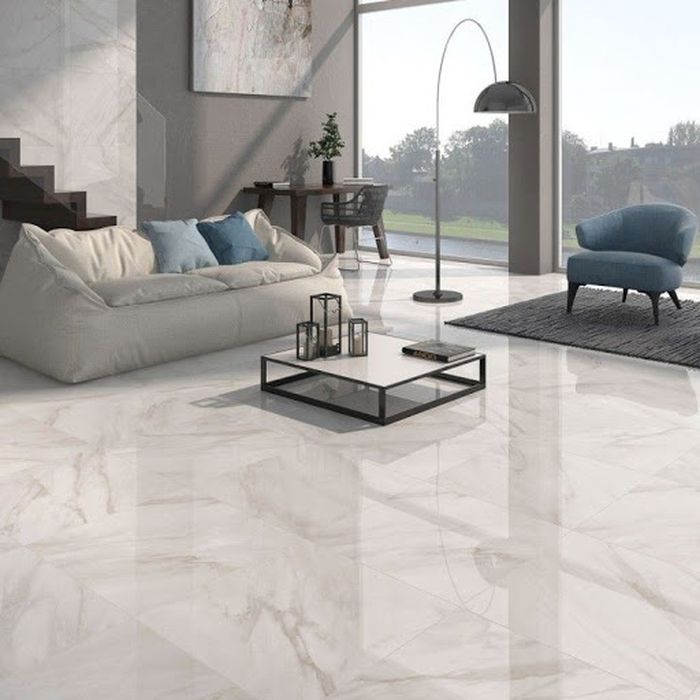 White color is favored by many people because this type of color can make the house look cleaner, comfortable, and more natural. What's more, this color is easy to match with various home furniture but must clean on the floor regularly, so it is not dirty. Stains and dirt on white floors will be more visible and create an uncomfortable atmosphere.
Then, we know that white is a great granite color for a minimalist home, and can make the room look brighter. Therefore, you can consider the color river white, white ice, or Himalayan white in a room. However, you can also choose granite without a motif or plain for a Scandinavian concept residence. In addition to being bright, the excess of white makes the house more modern.
Gray ceramic granite floor model
The next discussion on granite floors is granite floors in gray. Its exotic and glossy appearance makes the house look aesthetic and luxurious. Similar to white, gray is also easy to combine with other paint colors because this color is a simple, neutral, and not sharp color.
We know that gray is a simple color and not too much. So it is suitable for minimalist living. Gray is a good granite color, and you can apply it to your terrace so that it looks more stylish. To make the granite floor stand out more, you can combine it with white wall paint, bright furniture, gold chandeliers, and dark wall paintings. This color also has a variety of motifs and models offered by the best brands. For example, the gray star is a combination of light gray, dark gray, black, and white. This model is suitable for an all-white kitchen or a monochrome room. That way, you will feel at home and comfortable in this place.
The black pattern in the middle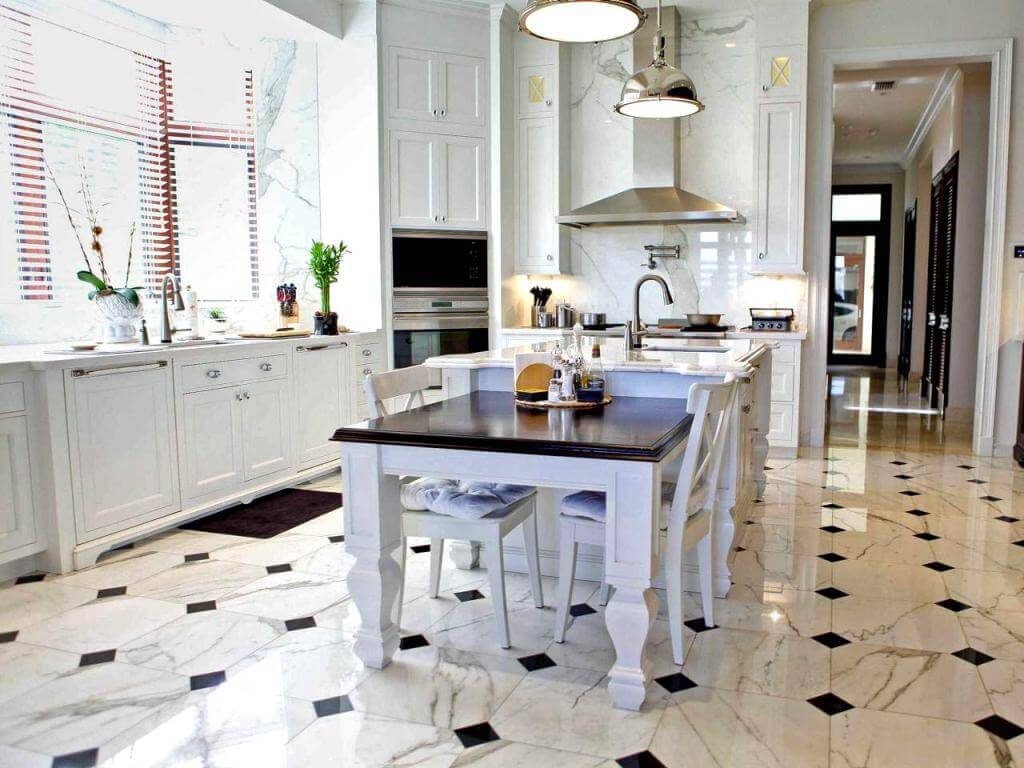 If you want to have a slightly different and striking floor feel, you can add a motif in the middle of the room. Then, to attract everyone's attention, you use a granite floor motif combined with various colors and patterns. That way, your granite floor will look elegant. Then, this floor model also makes the residence look like European houses. To make it look more attractive, combine furniture with colors that match the granite floor and the motif. That way, your room will look very cool.
Beige color granite floor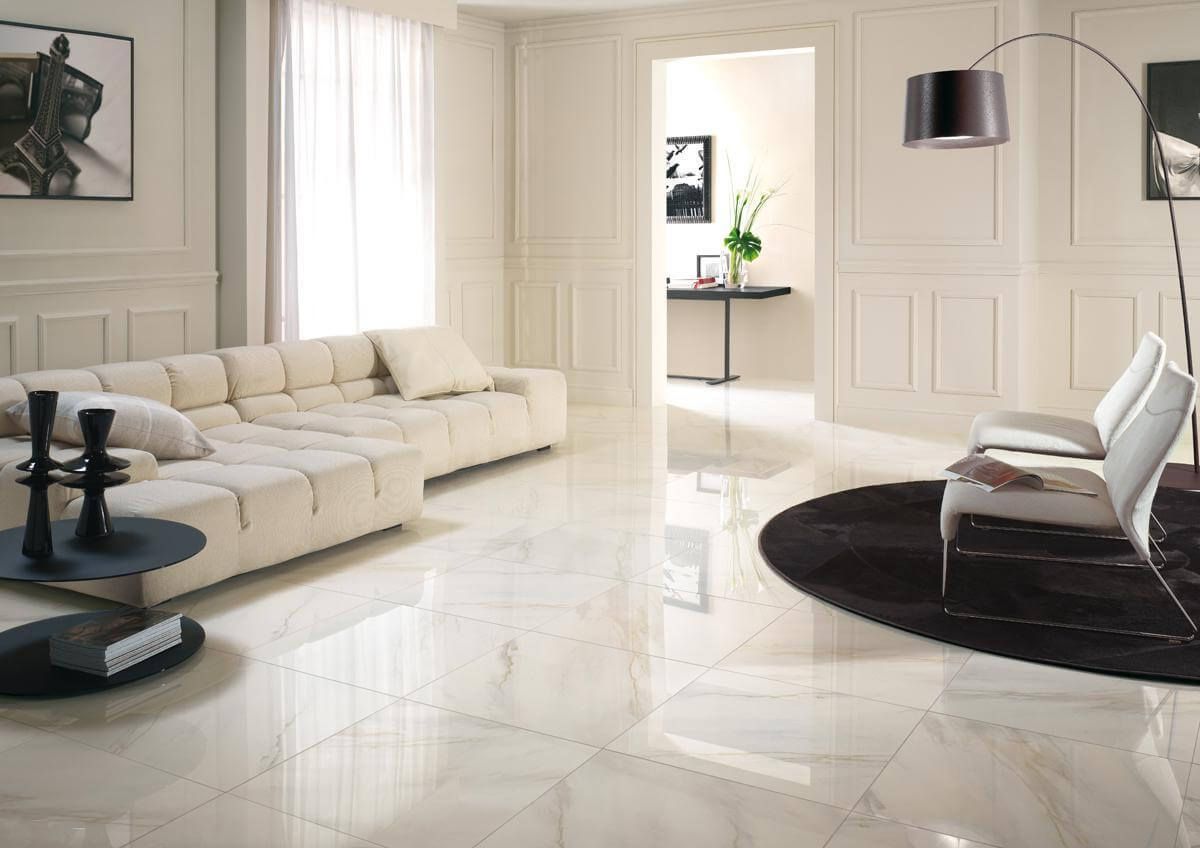 The good granite color is beige because it is always used in all residential concepts like modern and minimalist homes. Many cream colors are used for the floor area in the living room, family room, and bedroom area. If you are interested, choose a glossy or glossy surface because it makes comfortable your home design. In addition to plain, you can also consider various models and motifs of beige granite that are more popular.
Then, to make it look more beautiful and charming, you can add a beige sofa set. black floor carpet, black standing lamp, wall painting, and beige walls. With this color combination, your living room will look beautiful and luxurious.
Golden yellow granite floor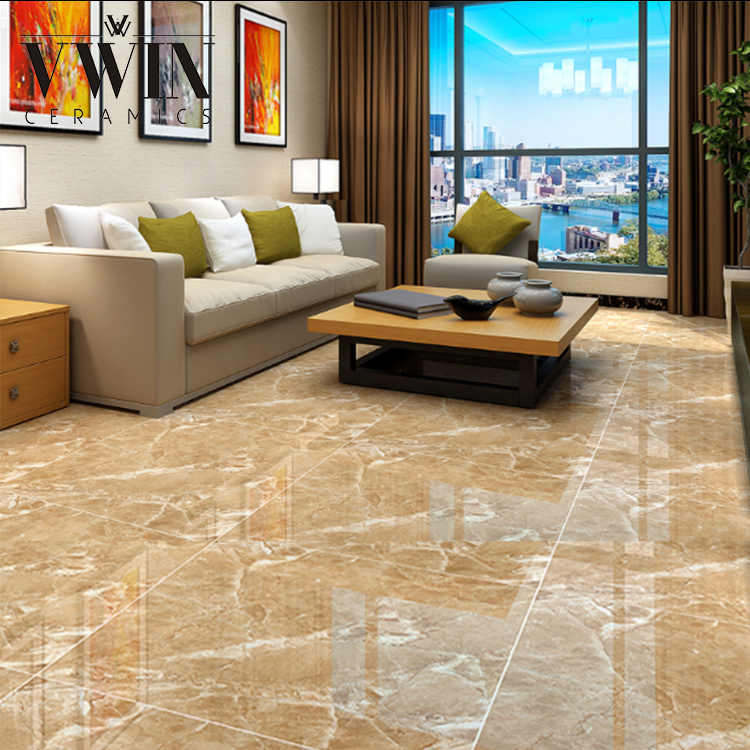 You could say golden yellow is the color of the granite floor that is trendy for luxury residences. This color is usually applied to luxury homes that seem glamorous. However, to make your home look beautiful, you should choose an attractive and simple motif like this picture. Then, to design this living room, a combination of gold, beige, or brown can also be considered for a warm residence. Of course, this design makes the house far from tacky.
Then, to make it look cool, you can decorate the room with this granite floor with a cream sofa set, light wall paintings, white decorative lights, and brown curtains. With this design, your living room will amaze your guests more. Good luck!
Brown color granite floor

Brown is a great granite color for your home to make it look sweet and warm. This color is suitable for housing with natural concepts such as using a lot of wood materials. Not only plain, but you can also choose other motifs and models of granite. Starting from the beige butterfly with a mix of black, white, cream, and brown colors to Santa Cecilia granite, the white part is less visible.
Then, brown granite with wood motifs can also be an option for your home. Wooden granite models will look sweet if applied in the kitchen, living room, or family room. To make it look more attractive, combine this granite color with cream-colored furniture, white decorative lights, and cream-colored walls. That way, your living room will look luxurious and comfortable.
Green color granite floor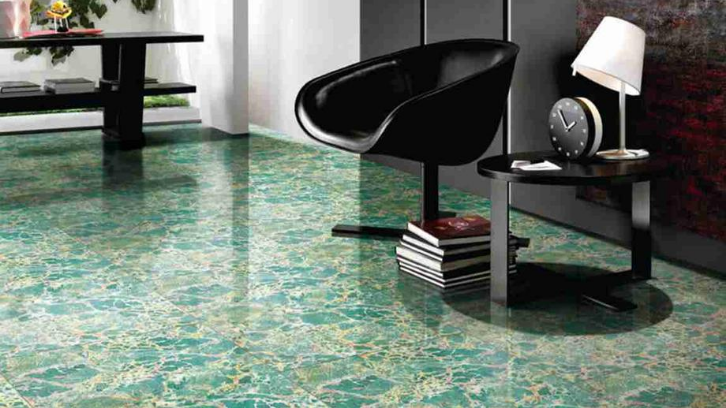 In addition to the gold color, the green color also turns out to be able to give a luxurious and natural impression to your house because the color gives a cool nuance and blends with nature and trees. To make it look more harmonious, you can arrange the combination with black furniture, dark brown, and white walls. That way, you will feel calm and comfortable inside.
Blue color granite floor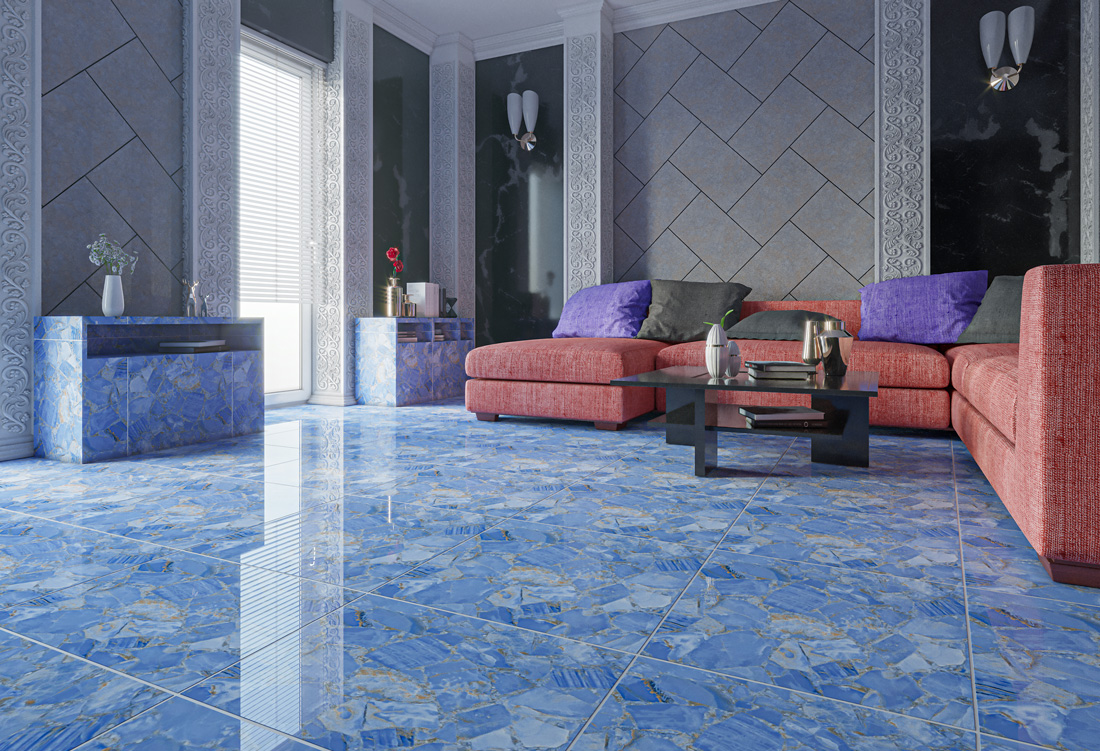 For the latter, we give an example of a blue granite floor. This color is also one of the targets of many people because of its unique color. The blue color results from the emitted silver light which then shows a color similar to blue.
Then, to make it look more trendy, you can combine this tiled floor with a brick red sofa set, colorful sofa cushions, white wall lamps, and gray walls. With a design like this, the appearance of your living room looks like a vintage design.
6. Conclusion
Those are some granite floor models you can apply to your home. If you want to design the interior of your home to look aesthetic, beautiful, luxurious, attractive, and fun, you can choose one of the designs above to add to your ideas and inspiration. We hope this floor design can suit your tastes. Then, making you and your family more comfortable at home and cheerful. Happy decorating!